Introducing a Taste of Paradise: Indulge in Our Limited-Time Coconut Shrimp Delights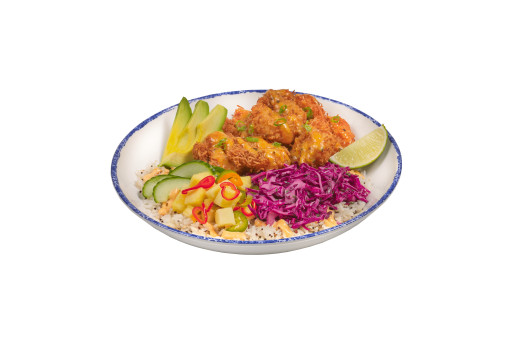 Coconut Shrimp Bowl
Image of a bowl full of coconut shrimp
HOUSTON, September 12, 2023 (Newswire.com) - Mac Haik Restaurant Group (MHRG), parent company of Slapfish Coastal Seafood Kitchen, introduces a new Limited Time Only menu featuring coconut shrimp. A new Coconut Shrimp Basket and Coconut Shrimp Bowl, two delectable creations that will transport your taste buds to an island paradise, are now available through November 11.
Mac Haik Restaurant Group (MHRG) and culinary innovation partner The Culinary Edge (TCE) navigated Slapfish towards a delectable strategy for a full suite of upcoming LTOs that will hit restaurants in Fall 2023 through Summer 2024. First docking this Fall, inspired by the flavors of the exotic coconut palm, these dishes showcase a harmonious blend of crispy, yet succulent shrimp and the rich, tropical taste of coconut. For a limited time, seafood enthusiasts and foodies alike will have the opportunity to savor these classic yet contemporary mouthwatering delights.
**Coconut Shrimp Basket:**
Dive into a crispy and savory adventure with our Coconut Shrimp Basket. Our chefs at The Culinary Edge have expertly crafted this dish by hand-coating succulent shrimp with a delicate layer of premium coconut. Each bite delivers a satisfying crunchy exterior, unveiling the tender shrimp within. Served alongside a tropical slaw, french fries and mango chili dipping sauce, this entrée is the perfect balance of sweetness and tanginess. Prefer plant-based seafood? We have you covered with our plant-based NEW WAVE shrimp.
**Coconut Shrimp Bowl:**
For a further blissed-out experience, the Coconut Shrimp Bowl offers a bright symphony of flavors and textures. Picture a bowl brimming with hand-coated crispy coconut shrimp, nestled atop a bed of fragrant rice and quinoa blend, with tropical slaw, mango chili sauce, pineapple relish, avocado, English cucumber, sesame soy glaze, and Sriracha mayo this vibrant, balanced, and satisfying meal will transport you to a sun-soaked beach. Are you a plant-based seafood lover? This dish is also available with sustainably sourced Plant-based NEW WAVE shrimp.
"At Slapfish, we are always exploring innovative ways to delight our guests with extraordinary flavors," says Dan Anfinson, President. "Our Coconut Shrimp Basket and Coconut Shrimp Bowl capture the essence of a tropical getaway in every bite. It's a limited-time opportunity for our patrons to experience a culinary vacation right at our tables."
The limited-time Coconut Shrimp offerings will be available at Slapfish Coastal Seafood Kitchen from September 6 through November 11, ensuring that you can savor these bright & summery delightful creations well into the cooler months. These dishes are sure to transport your palate to an other-worldly paradise of flavors.
Indulge in a taste of paradise - only at Slapfish.
About Slapfish
Slapfish is a food truck turned brick-and-mortar, fast-casual seafood restaurant that consists of 16 locations across the U.S. Slapfish has received many awards for culinary innovation and sustainability efforts across the concept including MenuMaster's Trendsetter Award (2016), Sustainable Operator of the Year from The Buyer's Edge (2022) and Future 50: Emerging Brands by Restaurant Business (2022). Slapfish is headquartered at Mac Haik Enterprises (MHE) in Houston, Texas. To learn more about Slapfish, please visit www.slapfishrestaurant.com.
About Mac Haik Enterprises LTD (MHE)
Mac Haik Restaurant Group (MHRG) is a division of Mac Haik Enterprises LTD (MHE), a diversified holding company based in Houston, TX. MHE is a major investor in three rapidly growing fast-casual restaurant brands, Original ChopShop, Slapfish and Due Cucina, and one of the largest franchisees of First Watch Restaurants. MHE also owns Mac Haik Outdoor Media, Mac Haik Hospitality, and Mac Haik Automotive Group which encompasses 23 car dealerships. The 11 affiliated companies of MHE have engaged in the development, ownership and management of commercial real estate and healthcare facilities, asset acquisition and disposition, facilities management, property management, leasing, project management, construction plus janitorial services, as well as hotel ownership. Overall, MHE companies employ over 3,000 employees. To learn more about MHRG, please visit www.machaik-enterprises.com.
About The Culinary Edge
The Culinary Edge (TCE) is a San Francisco-based food and beverage innovation consultancy, fusing culinary excellence and human-centered design for a better future. At TCE you'll find classically trained chefs working alongside designers, brand planners, operational experts, and food anthropologists. The company's unique 360-degree process has led them to work with ambitious national brands including Starbucks, First Watch, Buffalo Wild Wings, and the launch of TCE's own brand, Starbird. To learn more about The Culinary Edge and the team, visit www.theculinaryedge.com. Follow The Culinary Edge on LinkedIn for the latest news and trends.
Contact Information:
Lacey Martin
Vice President of Marketing
[email protected]
(713) 408-1381
Original Source:
Slapfish Coastal Seafood Kitchen to Introduce New Menu for Fall
The post Slapfish Coastal Seafood Kitchen to Introduce New Menu for Fall first appeared on Dayue News.