Swift's U.S. Tour Strikes a Chord: Hotel Prices Soar by 7.7% Year-on-Year in Anticipation of Concert Dates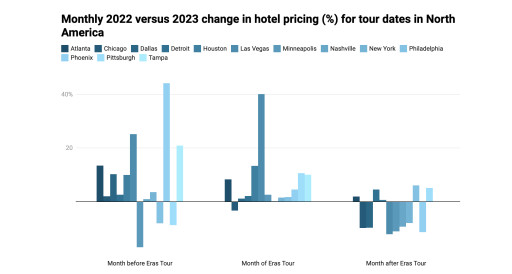 Monthly 2022 versus 2023 change in hotel pricing (%) for tour dates in North America
Taylor Swift Tour YoY comparison in North America
DENVER, August 3, 2023 (Newswire.com) - OTA Insight, the global leader in cloud-based hospitality business intelligence, today released a comprehensive analysis highlighting the influence of Taylor Swift's Eras Tour on hotel demand and pricing, both domestically and internationally.
The Eras Tour, consisting of over 130 concerts, is already 2023's highest-grossing musical tour, and it's only halfway through. The tour's emphasis on multi-date, arena-filling stops in major cities during weekends is creating substantial shifts in the hospitality market, even in major cities with deep hotel inventory.
"Our recent analysis has spotlighted an unprecedented hospitality phenomenon: the Taylor Swift effect," said Dave Collier, Chief Revenue Officer at OTA Insight. "This tour's influence extends far beyond the music world, sending ripples throughout the hospitality industry."
In the U.S., Taylor Swift's tour dates coincide with a 7.7% year-over-year (YoY) uptick in hotel prices in the month leading up to her concerts. Even in larger markets, a two or three-night stay of Swift's can significantly influence average pricing for the entire month. The effect is particularly distinct in cities like Minneapolis, where hotel prices surged by 80% from May to June 2023, concurrent with her concert dates.
This trend isn't just a phenomenon in the United States. OTA Insight's report illustrates the extension of "Taylor Swift Effect'' to global markets, creating material boosts in hotel demand and pricing. For example, Mexico City, Mexico, has seen hotel OTA and metasearch volume shoot up 2.5 times the number of searches made at the start of 2023, following the Eras Tour announcement.
"The momentum continues to build as the tour dates approach," Collier adds. "For example, hotel prices in Los Angeles during the peak demand on August 5th are priced, on average, $70 higher than the same day the previous week, illustrating the exceptional demand this event generates."
OTA Insight predicts that this effect will be even more pronounced in 2024, as the tour continues across the Asia-Pacific region and Europe. Early data in Australia shows red-hot demand. In both Melbourne and Sydney, the majority of inventory is already booked in these cities, with On The Books (OTB) reservations sitting at 71% and 63% of hotel inventory at their respective peaks.
OTA Insight's comprehensive data analysis reveals the undeniable influence of the Taylor Swift phenomenon on the hospitality industry - a force driving significant demand. Swift's tour, proven to command the highest room rates for the year in its visited cities, will continue to have a ripple effect that reaches far beyond concert venues. To access the full report, click here.
The power of real-time insights and leading demand data can't be overstated. It enables hoteliers to formulate strategic pricing for these pivotal dates, capturing demand and maximizing revenue in a competitive market. Swift's tour isn't just a musical journey - it's a catalyst for economic opportunity across the hospitality sector.
Contact Information:
Adam Swart
Global Head of Brand
[email protected]
917-359-8969
Original Source:
OTA Insight Unveils the Impact of 'Taylor Swift Effect' on Global Hotel Markets
The post OTA Insight Unveils the Impact of 'Taylor Swift Effect' on Global Hotel Markets first appeared on Dayue News.