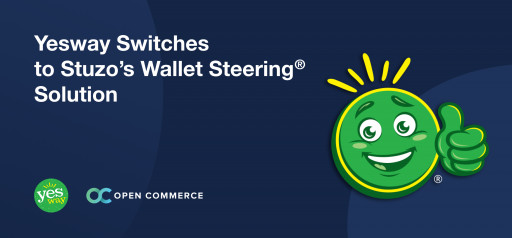 Yesway Switches to Stuzo
Stuzo to power Wallet Steering for Yesway
PHILADELPHIA, March 15, 2023 (Newswire.com) - Stuzo, the one and only provider of Wallet Steering®, powered by its Open Commerce® product bundle, and Yesway, one of the country's fastest-growing convenience store chains, today announced Yesway's switch to Stuzo to power the award-winning Yesway and Allsup's Rewards customer loyalty program.
"We're thrilled to partner with Stuzo and re-launch our programs with their Wallet Steering capabilities," said Darrin Samaha, VP of Marketing at Yesway. "When we first launched Yesway Rewards, we created a foundation for rewarding our customers. Over time, we realized we had the opportunity to go so much further. Through our partnership with Stuzo, we're confident we can build on our past success and scale up our program compared to where we are today in ways that matter most to our business - member count and transaction volume paired with profitable incremental bottom line growth."
Yesway will leverage Stuzo's Wallet Steering solution to understand the incremental wallet opportunity it has with its customers on a one-to-one basis and further, on a wallet-by-wallet basis. Yesway will activate this data in real time to increase its share of customer wallets.
"We expect our new program launching later this year, powered by Stuzo's Open Commerce products, to become the most successful customer engagement program in our industry," added Samaha. "We've also taken advantage of Stuzo's 1.5X Performance Guarantee, which guarantees we'll get at least 50% more members and transactions relative to our current program. This gives us great confidence that Stuzo will go above and beyond for our business."
"Yesway is one of the fastest-growing and most frequently honored convenience brands in our industry, led by a number of the most well-revered leaders in our industry," said Jake Kiser, Chief Customer Officer at Stuzo. "It is our honor to help the entire Yesway team turbocharge business outcomes and support them through significant growth in the coming years."
###
About Stuzo - Stuzo, with its Open Commerce® product bundle and patent-pending Wallet Steering® solution, empowers Convenience & Fuel Retailers to gain more share of wallet and customer lifetime value than possible with any other solution provider. Stuzo's unified Open Commerce products consist of: Activate for Intelligent 1:1 Loyalty, Transact for Contactless Commerce, Experience for Cross-Channel Customer Experiences, and Retailer Connect for Corporate-to-Dealer Program Management. Stuzo's solutions are supported by a set of program management services and Stuzo is the only supplier in the industry to contractually guarantee business outcomes with its 1.5X Performance Guarantee.
About Yesway: Yesway is one of the fastest-growing convenience store operators in the United States. Established in 2015, Yesway is a multi-branded platform headquartered in Fort Worth, Texas, which operates 435 stores located in Texas, New Mexico, South Dakota, Iowa, Kansas, Missouri, Wyoming, Oklahoma, and Nebraska. Yesway operates its portfolio primarily under two successful brands, Yesway and Allsup's, with sites that are differentiated through a leading food service offering, featuring Allsup's famous deep-fried burrito, and a wide variety of high-quality grocery items and private-label products. Yesway's geographic footprint consists of stores located in attractive rural and suburban markets across the Midwest and Southwest, where it is often the convenience retail destination of choice and effectively the local grocer. The Yesway team has a successful track record of growing through acquisitions and believes it is well-positioned to continue to solidify its market position and grow its store count. Yesway has received numerous industry awards for its growth initiatives, management team, loyalty program, and employees' contributions to the industry. yesway.com
Contact Information:
Aaron McLean
CMO
[email protected]
Original Source:
Yesway Switches to Stuzo's Wallet Steering Solution
The post Yesway Switches to Stuzo's Wallet Steering Solution first appeared on RSVTV news.