Vape manufacturer gathers legal, marketing expertise to evaluate state of vaping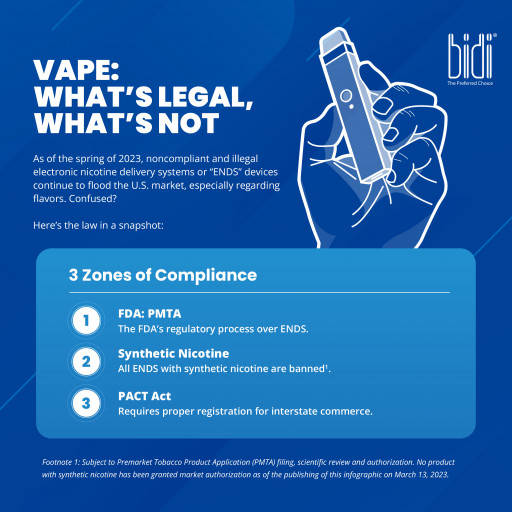 Bidi Vapor Infographic: What's Legal, What's Not
A new infographic from Bidi Vapor summarizes what vaping products are compliant with federal regulations.
MELBOURNE, Fla., March 21, 2023 (Newswire.com) - A new webcast, sponsored by Bidi Vapor, LLC, and a companion infographic, combine expert viewpoints from legal and marketing fields to tackle the confusion surrounding vaping devices, explaining what can and can't be sold in stores.
To view the webcast, click here. To view and download the infographic, click here.
As both the webcast and the infographic point out, one important development has been new regulations over synthetic nicotine, said Bidi Vapor founder Niraj Patel. After July 2022, all vaping devices that use synthetic nicotine cannot be legally sold in the United States, without going through the proper regulatory steps, he said. At this point, no product using synthetic nicotine has received authorization from the U.S. Food and Drug Administration (FDA), he said in the webcast.
Unfortunately, products containing synthetic nicotine still flood the market, Patel said. "Enforcement is key," he said. "It should occur at the manufacturer, wholesale, and retail level. But we're not seeing it."
Referring to the FDA process by which vaping products are authorized for sale in the United States, Russell Quick, president of Kaival Marketing Services (KMS), which supports Bidi Vapor and its electronic nicotine delivery system (ENDS) branded BIDI® Stick, said, "We see products on shelves we know have no PMTA, or have MDOs, or are synthetic. None of that seems to have gone away."
Quick was referring the FDA authorization process that requires turning in what is called a premarket tobacco product application or "PMTA." During the PMTA review, many companies that sold flavored devices received marketing denial orders or "MDOs," which meant they needed to take their products off store shelves.
The webcast panel elaborated on the status of Bidi Vapor's PMTAs for both its "Classic" tobacco-flavored device and its 10 other flavored varieties, saying that while it received MDOs for their flavors, a court ruling in August of 2022 set them aside. Currently, Bidi Vapor can legitimately sell its flavored products as the FDA continues its scientific review, subject to the agency's enforcement discretion, said Azim Chowdhury, partner with the Washington, D.C.-based Keller and Heckman LLP.
ABOUT BIDI VAPOR
Based in Melbourne, Florida, Bidi Vapor maintains a commitment to responsible, adult-focused marketing, supporting age-verification standards and sustainability through its BIDI® Cares recycling program. Bidi Vapor's premier device, the BIDI® Stick, is a premium product made with high-quality components, a UL-certified battery and technology designed to deliver a consistent vaping experience for adult smokers 21 and over.
Visit www.bidivapor.com.
ABOUT KAIVAL MARKETING SERVICES
Kaival Marketing Services has been the primary marketing and sales service provider for Kaival Brands since 2020. In addition to its sales force, KMS brings over 100 contracted employees dedicated to supporting Kaival Brands' management team.
Visit http://kaivalmarketingservices.com.
Contact Information:
Angel Abcede
Press Manager
[email protected]
(773) 459-6775
Original Source:
Bidi Vapor Sponsors Vape Webcast, Provides Infographic: What's Legal, What's Not
The post Bidi Vapor Sponsors Vape Webcast, Provides Infographic: What's Legal, What's Not first appeared on RSVTV news.