Leveraging unique cannabinoid formulations and functional ingredients, Ananda Pets Soft Chews deliver natural pet wellness solutions.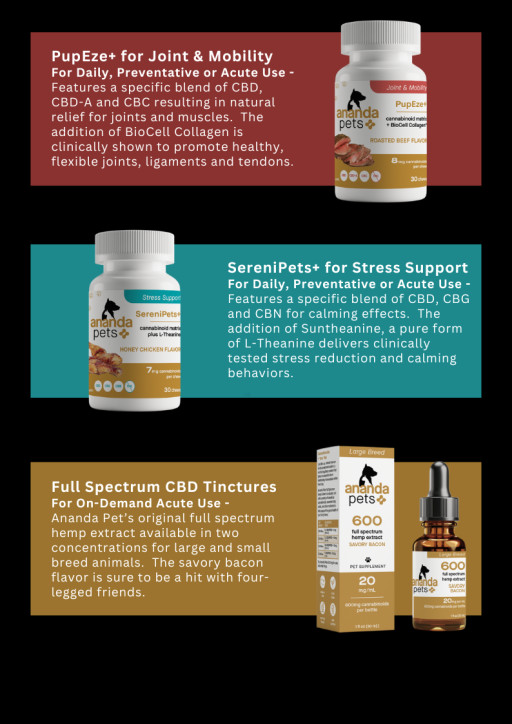 Ananda Pets New Products
SereniPets for Pet Stress, PupEze for Joint Health and CBD tincture for general wellness
GEORGETOWN, Ky., September 21, 2023 (Newswire.com) - Ananda Professional, a leading provider of professional-quality CBD products, is excited to announce the launch of its latest breakthrough in pet wellness – SereniPets+ Soft Chews for Stress Relief, and PupEze+ Soft Chews for Joint & Mobility Support. These new chews are the result of Ananda Professional's expanded manufacturing capabilities, ensuring the same premium quality and consistency as their trusted human products.
Ananda Professional's Pets Soft Chews have been thoughtfully formulated to address two critical aspects of pet health: stress relief and joint & mobility support. Each chew is meticulously crafted to provide the very best in pet wellness, making it easier than ever for pet owners to give their beloved companions the care they deserve.
These chews are a standout in the market due to their specific cannabinoid formulations and functional ingredients that provide clinically tested outcomes. PupEze+ pairs a unique formulation of CBD, CBD-A, CBC and BioCell® Collagen to deliver joint health and mobility support. SereniPets+ combines CBD, CBG, CBN and Suntheanine® resulting in calming effects and relief, even during the most stressful events.
"Our commitment to the well-being of both humans and their four-legged friends has driven us to develop these remarkable Pets Soft Chews," said Chris Lee, Marketing Director at Ananda Professional. "We understand the importance of ensuring pets live happy, healthy lives, and that's why we've carefully selected these specific cannabinoids and added functional ingredients to deliver the best outcomes."
These soft chews are expertly crafted with the same precision and care as Ananda Professional's human products. Their state-of-the-art manufacturing facility ensures that each soft chew meets the highest quality standards, providing pet owners with peace of mind and confidence in the products they choose for their pets.
For more information about Ananda Professional's Pets Soft Chews for Stress Relief and Joint & Mobility Support, and to explore the full range of pet wellness products, please visit Ananda Professional's website.
Contact Information:
Chris Lee
Brand Director - Ananda Professional
[email protected]
888-388-1119
Original Source:
Ananda Professional Unveils Innovative Pets Soft Chews for Stress Relief and Joint & Mobility Support
Lifestyle - JISIP NEWS originally published at Lifestyle - JISIP NEWS