The Spanish version of PriceLabs' dynamic pricing and revenue management platform is now available. It provides Spanish-speaking hosts and property managers worldwide an improved user experience and the potential to increase their revenue.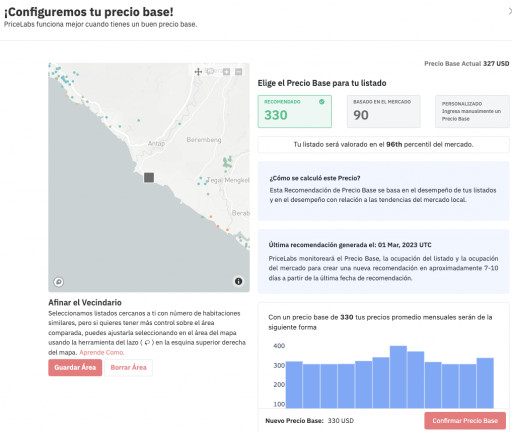 PriceLabs - Dynamic pricing for vacation rentals - available in Spanish
Screenshot of the Spanish-language version of PriceLabs' dynamic pricing and revenue management platform. It helps Airbnb hosts, vacation rental managers, and hotel operators increase revenues, automate tasks, and save time.
CHICAGO, March 3, 2023 (Newswire.com) - PriceLabs is launching the Spanish-language version of its industry-leading dynamic pricing and revenue management software for the hospitality industry.
"We are thrilled to offer this Spanish version of our software," said Richie Khandelwal, Co-founder of PriceLabs. "It provides customers in Spanish-speaking countries an easier way to navigate our product and understand how it works, leading to increased listings performance and improved user productivity."
PriceLabs already has thousands of customers in Spanish-speaking countries.
PriceLabs offers Spanish-speaking customers excellent service, including onboarding, weekly trainings, product updates, and customer support in Spanish.
PriceLabs helps thousands of customers across Spanish-speaking countries increase revenue and save time, from individual Airbnb hosts to large vacation rental managers.
Companies like Hostpal in Mexico; Iloftmalaga, Welcomer Group, LuxuryRentalsMadrid.com in Spain; and Amazinn Places in Panama rely on PriceLabs' dynamic pricing and revenue management services.
Ashley Ureña, Head of Pricing and Channel Distribution at Hostpal, said: "Working with PriceLabs, we have been able to maximize our profitability for each of our listings by adjusting several key factors (prices, discounts, LOS, etc.). The PriceLabs team has continuously supported us in improving our tool knowledge and has been very open to designing the specific reports we requested. PriceLabs is a very powerful tool for business planning and strategy execution."
2023 Spanish market trends according to PriceLabs
According to PriceLabs' data, here are market trends for Spain:
Barcelona is at its prime for beach and outdoor events from April to July, with a higher demand this year than last (+8 %). However, they note a slight slowdown ( -16 %) in June following the Spanish Grand Prix (2-4 June 2023). Additionally, there is a slight increase in demand (+5%) on October 24, possibly due to the Convention on Pharmaceutical Ingredients (CPHI).
Madrid's peak tourist seasons are Spring (March to May) and Fall (September to November). Demand looks almost the same as last year, with tourism expected to increase throughout 2023 (+3%). However, they note a spike on April 30 (+22%).
How to get started
If you're a PriceLabs user, go to your user settings to change the language to Spanish. Otherwise, sign up for a free 30-day trial at pricelabs.co.
About PriceLabs
PriceLabs provides dynamic pricing and revenue management solutions for the hospitality industry. Its data-driven approach, automation rules, and customizations help accommodation owners and managers increase revenues. With over 90 integrations, PriceLabs' automated revenue management platform is built to serve the needs of everyone, from large property managers to single-property owners. Learn more at www.pricelabs.co
Contact Information:
Thibault Masson
Head of Product Marketing
[email protected]
Original Source:
PriceLabs Launches Spanish-Language Version of Its Dynamic Pricing and Revenue Management Software