Mvix partners with respected Point-Of-Sale brands such as Micros, Square, Toast, Clover, Heartland, and others to assist clients in crafting captivating menus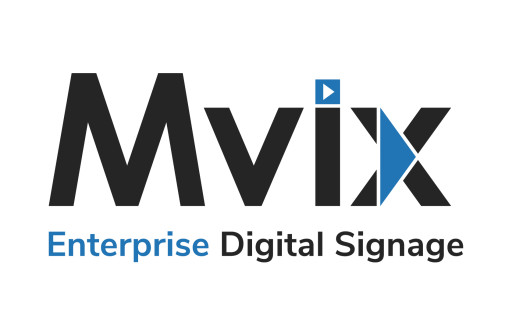 Mvix Logo
Enterprise Digital Signage
STERLING, Va., August 29, 2023 (Newswire.com) - Mvix, a leading provider of digital signage solutions, is excited to unveil its latest dynamic digital signage advancement for restaurants, eateries, bars, and cafeterias, "Menu Maker". This new feature helps simplify the process of creating digital menu boards by leveraging data from over a dozen point-of-sale (POS) systems.
Realizing the needs of clients who need live updates of their menus throughout the day, Mvix has built this feature from the ground up to include a multitude of critical features such as real-time pricing updates and sold-out updates that help to build a stronger business-customer relationship.
At the heart of the Menu Maker module lies a meticulously crafted live database that accesses information through a client-chosen POS system. Menu Maker can pull an array of menu item details, including allergen information and caloric content that are then intelligently mapped to specific locations and meal stations, ensuring that the displayed menu is not only accurate but also relevant to the venue.
Menu Maker caters to a variety of settings, including corporate facilities, QSR chains, as well as school and college cafeterias, where daily menu changes are common. Moreover, in locations such as cafeterias with multiple stations, the module allows for station-specific customization, giving each menu board a unique identity.
"We're always striving to enhance the client experience," said Mike Kilian, Executive Vice President at Mvix. "The introduction of 'Menu Maker' to our CMS reflects this commitment. Clients can now display complex menu rotations, cater to dietary preferences, and provide accurate information to patrons with automated, real-time updates."
For more information on how Menu Maker can benefit your business, inquiries can be directed to [email protected].
About Mvix: Mvix is a leading provider of digital signage solutions, empowering businesses to engage, inform, and influence their audiences with captivating visual experiences. With a comprehensive suite of products and services, Mvix offers end-to-end digital signage solutions that enhance brand presence, improve customer experiences, and drive results. For more information, please visit mvix.com.
Contact Information:
Evan Magner
Marketing Project Coordinator
[email protected]
866.310.4923
Original Source:
Mvix Introduces 'Menu Maker': A Game-Changer in Dynamic Digital Menu Board Creation
The post Mvix Introduces 'Menu Maker': A Game-Changer in Dynamic Digital Menu Board Creation first appeared on Dayue News.