Interactive Tech Event Showcases Industry Showstoppers and Continues to Promote STEM Education in the U.S.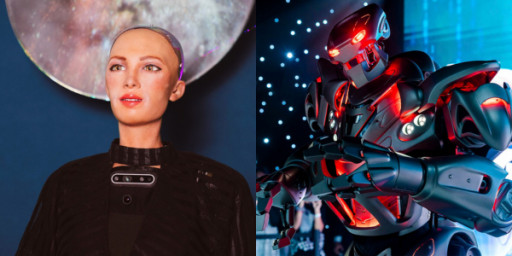 Sophia and Titan
On the left, Sophia the Robot by Hanson Robotics. On the right, Titan Robot by Cyberstein Robotics.
GREENSBORO, N.C., August 7, 2023 (Newswire.com) - Mirey Robotics is thrilled to announce that ROBOPARK is heading to Greensboro, North Carolina. After a successful debut in Raleigh, this unique tech exhibit is set to open its doors in Greensboro this September.
Building on a legacy of innovation and public engagement, Mirey Robotics is introducing two extraordinary exhibits to ROBOPARK: the renowned Sophia robot and the breathtaking Titan show. Both are recognized as industry showstoppers and are sure to captivate audiences of all ages.
"We're taking ROBOPARK to the next level in Greensboro," said U.S. Expansion Manager for Mirey Robotics Lucy Bee. "Featuring Sophia, the world's most expressive robot, and the thrilling Titan show, we're not only showcasing cutting-edge technology but also creating unforgettable experiences."
Sophia, the humanoid robot known for her incredible lifelike appearance and interactions, will be a highlight of the event. Visitors will be able to engage with Sophia, witnessing firsthand the future of human-robot collaboration.
The Titan show, a spectacular fusion of robotics and entertainment, will provide a mesmerizing experience for attendees. Known for its larger-than-life performances, the Titan show is a must-see.
"ROBOPARK is more than an exhibition; it's a celebration of technology, creativity, and human potential," Bee added. "With the addition of Sophia and the Titan show, we're offering an even more immersive and inspiring experience."
Mirey Robotics invites local partners and technology enthusiasts to join us in making ROBOPARK a landmark event for the Greensboro community. With a focus on education, innovation, and unforgettable memories, ROBOPARK is set to be an event Greensboro will remember.
For more information about ROBOPARK, the Sophia robot, the Titan show or partnership opportunities, please get in touch with Mirey Robotics.
Contact Information:
Lucy Bee
US Expansion Manager
[email protected]
6513479128
Original Source:
Mirey Robotics Takes ROBOPARK to Greensboro, NC, Featuring the Sensational Sophia Robot and Titan Show
The post Mirey Robotics Takes ROBOPARK to Greensboro, NC, Featuring the Sensational Sophia Robot and Titan Show first appeared on Dayue News.