The fun-loving brand of colorable indoor play balls exhibits at this year's show, bringing with it the new STEAM Editions focusing on math, science and art.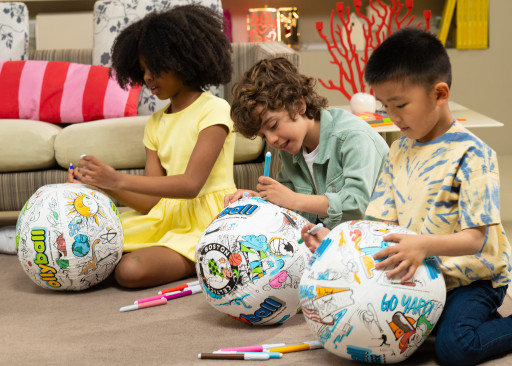 Ollyball STEAM Editions
Ollyball STEAM Editions preview at the New York Toy Fair
NEW YORK, September 27, 2023 (Newswire.com) - Ollyball®, a "Toy of the Year'' Winning Colorable Indoor Play Ball made by VICTURY Sports, unveils its new STEAM Editions at this year's 2023 New York International Toy Fair. The brand will exhibit the latest line along with its best-selling range of Ollyballs at Booth #3255 in New York from Sept. 30 through Oct. 3. This marks the brand's first STEAM-accredited line of educational playthings for schools, educators and homeschoolers.
Ollyball, the fastest-growing indoor play ball, teamed up with Dr. Amanda Gummer's toy education team to create a series of STEAM Edition Ollyballs. The first editions are Olllyball MATH, Ollyball SCIENCE (Physics Lesson) and Ollyball ART; all available in 2024.
"About a year ago, we started seeing schools and learning centers order 24 Ollyballs at a time. We reached out to them and learned that they use Ollyball for active indoor recess and to facilitate learning," said inventor Joe Burke. "We asked educators what lessons they wanted to teach and got the best team together and brought these to life. Each student gets their own Ollyball to color-in and follow the lesson plans."
The STEAM Edition Ollyball line has been peer-reviewed to ensure best practices and the activities are optimized for learning. Written by Antonia Llull, MOT, OTR/L and a team of education professionals, the lesson plans maximize the educational benefits of Ollyball and meet relevant learning objectives.
Ollyball MATH consists of five micro lessons using the colorable math-themed Ollyball to support a fun, multi-sensory, active learning experience covering 3D Shapes, Volume, Angles, Area of Perimeter, Numbers and Operations.
Ollyball PHYSICS allows each student to interact hands-on with experiments that teach the science principles of "Force," "Velocity" and the "Coefficient of Restitution." The program provides guidance to coax further curiosity and learning through physical play combined with scientific practices.
Ollyball ART explores master artists and allows students to "color-by-number" the masterworks of Vincent Van Gogh, Piet Mondrian and Katsuschika Hokusai. The Ollyball ART program also shows how technology impacts the arts with its own original NFT on the Ollyball and a QR Code to unlock the learnings. All programs include a booklet for each student to follow.
Ollyball's Patented KrunchCOR® construction also offers a tactile "crunch" benefit. Ollyball is for kids, teens and adults with educational and learning challenges and is safe for indoors with its patented construction.
About Ollyball:
Ollyball, winner of a Toy of the Year, is the Ultimate Indoor/Outdoor Play Ball. Ollyball was awarded two U.S. Utility Patents, international patents pending, and five registered trademarks in 22 countries.
Media Contact:
Leah Cybulski
ChicExecs PR
708-426-8730
Contact Information:
Ellen Burke
[email protected]
3109636307
Original Source:
Ollyball Bounces Full STEAM Ahead Into the 2023 New York International Toy Fair
The post Ollyball Bounces Full STEAM Ahead Into the 2023 New York International Toy Fair first appeared on The Offspring Session.