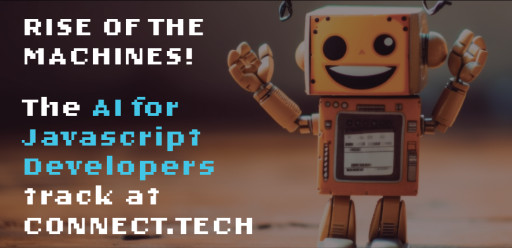 RISE OF THE MACHINES!
The AI for Javascript Developers Track at CONNECT.TECH
ATLANTA, July 24, 2023 (Newswire.com) - CONNECT.TECH, the largest multi-platform front-end conference in the USA, is thrilled to announce a new track specifically designed for JavaScript developers who are eager to dive into the world of Artificial Intelligence (AI). The "AI for JavaScript Developers" track is available at https://2023.connect.tech.
This exciting new track offers a unique opportunity for JavaScript developers to expand their skill set and integrate AI solutions into their work. In this era of digital transformation, AI has emerged as a critical technology that can transform businesses and the way we work, making this track especially valuable for JavaScript developers looking to stay ahead of the curve.
Our expert speakers will offer in-depth sessions on a variety of AI-related topics, including Machine Learning (ML), Natural Language Processing (NLP), neural networks, and predictive algorithms. These sessions will cover both the theoretical aspects of AI and practical implementation using JavaScript, the world's most popular programming language.
"We're excited to provide this unique opportunity for JavaScript developers to delve into AI," says Vincent Mayers, the organizer of CONNECT.TECH. "By providing sessions on integrating AI and JavaScript, we're empowering developers to take their skills and their projects to new heights."
Developers attending this track can look forward to:
Gaining a deep understanding of AI and how it can be leveraged using JavaScript.
Learning how to build intelligent apps and systems using popular JavaScript libraries and frameworks.
Exploring real-world use cases and case studies that showcase the impact of AI.
Networking with industry professionals and thought leaders who are at the forefront of AI and JavaScript development.
Whether you're a seasoned JavaScript developer looking to expand your horizons or new to the field and eager to learn about AI's vast potential, the AI for JavaScript Developers track at CONNECT.TECH 2023 is your ticket to the future of development.
Tickets for CONNECT.TECH 2023 are available now. For more information and to reserve your spot in the AI for JavaScript Developers track, please visit https://2023.connect.tech/.
About CONNECT.TECH
CONNECT.TECH is the largest multi-platform front-end conference in the USA. It's a premier event for web and mobile developers, offering a unique blend of practical sessions and networking opportunities. CONNECT.TECH attracts some of the industry's top experts, allowing attendees to learn about the latest technologies and techniques and connect with their peers in the development community.
Contact Information:
Vincent Mayers
Event Manager
[email protected]
4044830040
Original Source:
CONNECT.TECH 2023 Web Conference Introduces AI for JavaScript Developers Track
The post CONNECT.TECH 2023 Web Conference Introduces AI for JavaScript Developers Track first appeared on The Offspring Session.