Vietnam Veteran J. Kimo Williams returned to Vietnam with his camera and wrote music.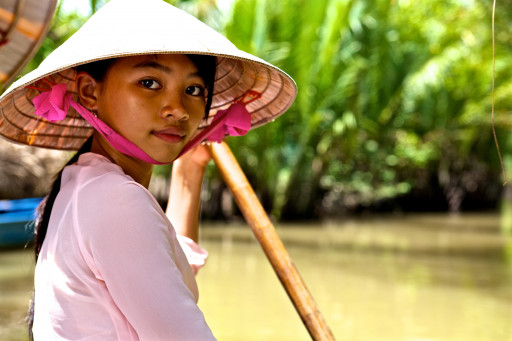 Face 50
Riding down the Mekong Delt
SHEPHERDSTOWN, W.Va., February 24, 2023 (Newswire.com) - FACES OF VIETNAM exhibit returns for the third year to the Shepherdstown War Memorial Building in West Virginia on March 24, 25, and 26, 2023, from 11 a.m. to 5 p.m.
In recognition of the sacrifices and contributions of Vietnam Veterans, Public Law No: 115-15, Vietnam War Veterans Recognition Act of 2017 designated March 29 as the official day to recognize Vietnam Veterans and their service to the country. FACES OF VIETNAM is a wonderful opportunity to remember those who contributed and served.
Vietnam Veteran J. Kimo Williams returned to Vietnam with his camera, and his stunning photographs are a testament to the land's beauty and people. Williams' journey started in 1969 when he thought Vietnam was nothing more than a third-world country, as portrayed by the media. But upon his return to the country in 1998, he realized how wrong he was. Williams has since visited Vietnam several times, capturing the essence of the culture through his camera lens.
The FACES OF VIETNAM exhibit showcases the people that Williams encountered during his trips to Vietnam, and it is a truly unforgettable experience. Williams' work is not just limited to photography; as a composer, he has also remastered and rereleased his DownBeat 41/2 Star album War Stories, featuring esteemed musicians like Mike Stern, Victor Bailey, and Vinnie Colaiuta. Pulitzer Prize winner Studs Terkel also provides a liner note introduction to several tracks.
Williams wants his music to be heard like an abstract painting on canvas, and it is sure to inspire a range of emotions in its listeners. You can find War Stories on streaming platforms and during the exhibition in Shepherdstown.
Don't miss this incredible opportunity to experience the beauty and culture of Vietnam through the eyes of J. Kimo Williams and reflect on the contributions of Vietnam Veterans.
War Stories is available at www.Kimotion.org, on streaming platforms, and during the exhibition in Shepherdstown.
Contact Information:
Kimo Williams
Artist-Photographer
[email protected]
3045821487
Original Source:
J. Kimo Williams Presents His FACES of VIETNAM Photo Exhibit: March 24th, 25th and 26th
Lifestyle - JISIP NEWS originally published at Lifestyle - JISIP NEWS