At Tropicana LV Weddings, We Offer You Something That's Never Been Done Before — Love Guaranteed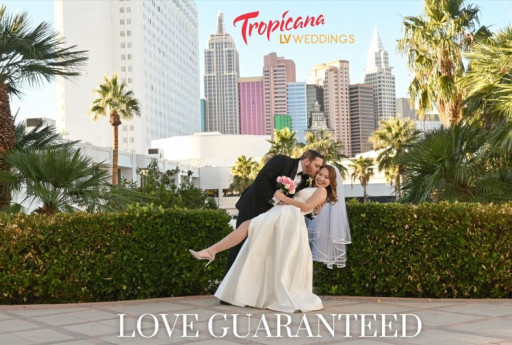 'Love It Or It's Free' Tropicana LV Weddings
Tropicana LV Weddings Introduces 'Love It Or It's Free' Weddings
LAS VEGAS, August 29, 2023 (Newswire.com) - Tropicana LV Weddings, renowned for its unparalleled luxury and exceptional service, is proud to unveil a groundbreaking wedding campaign that promises to redefine the wedding experience — the "Love It Or It's Free" Wedding Experience.
Capturing Love, Crafting Dreams:
"At Tropicana LV Weddings, we understand that your wedding day is not just an event; it's a celebration of love, unity, and the start of a beautiful journey. The Love It Or It's Free Wedding Experience is a testament to our commitment to exceeding expectations and creating memories that last a lifetime," said Cynthia Sharpe of Tropicana LV Weddings, the Director of Storytelling.
The Promise: Unforgettable Perfection or Your Money Back
This unique offering is simple yet bold: If you don't absolutely love your "Love It Or It's Free" Wedding Experience with Tropicana LV Weddings, we will refund the entire cost of your wedding package + tax or a total of $207.56*. This unparalleled guarantee showcases our unwavering confidence in our ability to deliver an extraordinary celebration that truly captures the essence of your love story.
Key Highlights of the 'Love It Or It's Free' Wedding Experience:
Tailored Excellence: Our world-class wedding planners work closely with each couple to curate a personalized experience that reflects their style, preferences, and dreams.
Exquisite Venue: Tropicana Hotel and Casino boasts a stunning and opulent backdrop, providing the perfect canvas for your special day.
Professional Capture: Every precious moment is expertly captured by our wedding celebrants, allowing you to relive the magic for years to come.
Booking Details:
To embark on this extraordinary journey, couples need to:
Book a new wedding ceremony at Tropicana LV Weddings
Select the Love It Or It's Free Wedding Package to qualify for the "Love It Or It's Free" guarantee.
Experience the wedding of your dreams, backed by Tropicana LV Weddings' unwavering commitment to excellence.
Contact Us:
For more information or to schedule a consultation, please contact a wedding planner at Tropicana LV Weddings now at 702-735-4331 or chat live on our website: www.tropicanalvweddings.com.
* If for any reason, you are unhappy with your wedding ceremony, please let Tropicana LV Weddings know when filling out the terms and conditions paperwork immediately following your wedding ceremony, and the company will issue the refund of the wedding package + tax for a total of $207.56. The refund doesn't include minister fees, processing fees or gratuities.
About Tropicana LV Weddings:
Tropicana LV Weddings is a luxury wedding venue that sets the stage for unforgettable experiences. With a legacy of excellence and a dedication to creating memorable moments, Tropicana continues to redefine hospitality and celebration.
Contact Information:
Cynthia Sharpe
Director of Storytelling
[email protected]
15108566907
Original Source:
Introducing the 'Love It Or It's Free' Wedding Experience: Elevate Your Special Day With Tropicana LV Weddings
Lifestyle - JISIP NEWS originally published at Lifestyle - JISIP NEWS