The Rev. Carrie K. Schofield-Broadbent to be ordained and consecrated as Bishop Coadjutor of the Episcopal Diocese of Maryland at Washington National Cathedral September 16; press conference at American University September 15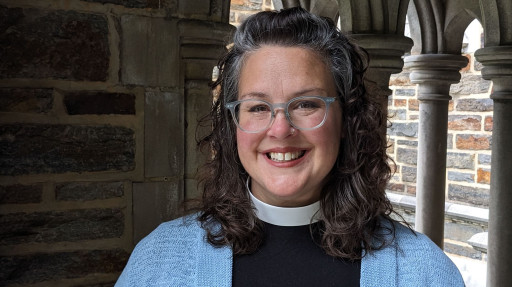 The Rev. Carrie K. Schofield-Broadbent
Elected as XV Bishop of Maryland
BALTIMORE, September 14, 2023 (Newswire.com) - The Episcopal Diocese of Maryland is pleased to announce the ordination and consecration of the Rev. Carrie Schofield-Broadbent as Bishop Coadjutor of Maryland. The consecration will take place on Saturday, September 16, 2023, 11:00 AM at the iconic Washington National Cathedral, 3101 Wisconsin Ave NW, Washington, DC 20016. All are welcome. Tickets not required. The service will be livestreamed. Details on the event and livestream are found here: https://episcopalmaryland.org/event/consecration-of-the-bishop-coadjutor-of-maryland/. Bishop-elect Schofield-Broadbent was elected March 25, 2023.
A press conference with the Right Rev. Mary Gray-Reeves, chief consecrator, and Bishop-elect Carrie Schofield-Broadbent to discuss the future of the Church will be held at 10:15 AM on Friday, September 15 at American University Conference Facility - East Campus Commons, 3319-3395 New Mexico Ave NW, Washington, DC 20016.
All press are invited to both events.
Deeply committed to honoring the dignity of every human being, the Rev. Schofield-Broadbent consistently attends to her own work around race, climate change, economic justice, and full-inclusion of LGBTQAI+ persons and is committed to helping the Church grow in these areas. Her consecration represents a significant step in furthering the Episcopal Diocese of Maryland's commitment to inclusive leadership and fostering a vibrant, diverse, and welcoming faith community.
The service on Saturday will be a grand celebration of the call of a bishop in The Episcopal Church, which is, in part, to "guard the faith, unity, and discipline of the Church..." (from the Book of Common Prayer, p. 516). The Right Rev. Mary Gray-Reeves, Vice President of the House of Bishops and Managing Director of the College for Bishops, will serve as chief consecrator, joined by a gathering of bishops, clergy, and lay leaders from across The Episcopal Church.
Bishop-elect Carrie Schofield-Broadbent identifies her own core values of ministry as: trust and relationships, truth and transparency, and compassion and faithfulness. These qualities reveal themselves in who God has created her to be: a bridge-builder, someone who is not afraid of tough conversations, and an encourager - grounded in integrity, creativity, and the love of Jesus. Open to the movement of the Holy Spirit, her collaborative leadership style combines strength, graciousness, authenticity, strategy and a generous sense of humor. Her leadership will help guide the work of the people of the Diocese of Maryland into its next phases of building beloved community by doing wonderful reckoning and research around their ties to racism and reparations, and applying those skills to enter deeper conversation with Indigenous people, to look at environmental issues and to seek justice, even when it's hard.
MEDIA CONTACT:
Carrie Graves
Canon for Communications
Episcopal Diocese of Maryland
[email protected]
mobile: 803-629-3476
episcopalmaryland.org
Contact Information:
Carrie Graves
Canon for Communications
[email protected]
410-467-1399
Related Files
EDOM-Shield-Transparentsmall200.png
Original Source:
Consecration of the Rev. Carrie K. Schofield-Broadbent to Take Place at Washington National Cathedral
Lifestyle - JISIP NEWS originally published at Lifestyle - JISIP NEWS