Learn the Basics for Staying Healthy this Summer and Live Life to the Fullest All Year Round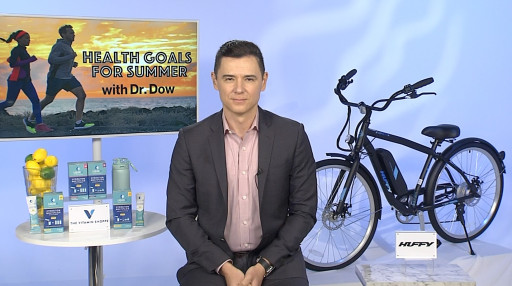 Dr. Mike Dow Offers Tips for Staying Healthy in Summer
NY Times Bestselling Author Dr. Mike Dow Shares Ideas to Keep Fit & Healthy this Summer
ATLANTA, August 24, 2023 (Newswire.com) - Summer is here, and with its longer days, more free time, and the opportunity to recharge. There are plenty of ways to make a real difference in your daily routine and overall wellness. Here are some reminders from one of the top psychotherapists in the nation, NY Times bestselling author Dr. Mike Dow, to help people focus on the positives and enjoy life. Whether it is adopting a daily nutrition routine, going outside to exercise, learning the importance of hydration or just relaxing, these solutions are designed to help develop new outlooks toward success at work, home, and play.
SELF CARE FOR BETTER HEALTH
Hydration is important all the time, but during the hot and humid months it's even more crucial. For this, use Liquid I.V.'s Hydration Multiplier, it is a great-tasting, daily electrolyte drink mix that delivers hydration to the body faster and more efficiently than water alone. Liquid I.V. is available at The Vitamin Shoppe and on vitaminshoppe.com, the leading destination for lifelong wellness solutions. Just add it to water. It is available in great-tasting, natural flavors, including Lemon Lime, Passion Fruit, Acai Berry, and Golden Cherry.
GET FIT FOR SUMMER
Huffy has bikes, scooters and more available in almost every size and style. They truly have a product to help everyone live the ride and have a healthier, more active summer! With a variety of styles ranging from kid's character bikes and leisurely beach cruisers to durable mountain bikes and high-performance e-bikes, they have a bike to fit every rider at every level. The new Huffy Everett plus Electric Comfort Bike is perfect for riders who just want to spend more time outdoors. For more information, visit www.huffybikes.com
About TipsOnTV
TipsOnTV covers a variety of topics, including food, entertaining, personal finance, technology, travel, health, lifestyle and more.
Contact Information:
R E
[email protected]
Original Source:
Best Selling Author Dr. Mike Dow Shares Tips to Create Health and Harmony on TipsOnTV
Lifestyle - JISIP NEWS originally published at Lifestyle - JISIP NEWS