Fewer than two percent of all recruiting agencies in the U.S. and Canada earn the Best of Staffing award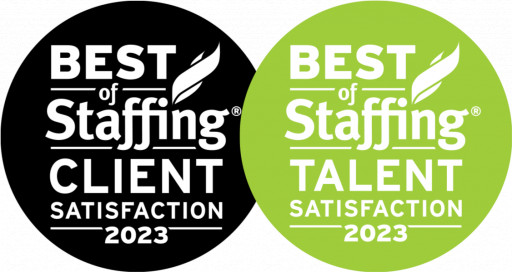 Sales Talent Inc. \u2014 2023 ClearlyRated Best of Staffing Client & Talent Winner
Sales Talent Inc. won both the Client and Talent Best of Staffing Awards for 2023.
BELLEVUE, Wash., February 7, 2023 (Newswire.com) - Sales Talent, Inc., a leading software and B2B sales recruiting firm, announced today that it had won the Best of Staffing Client and Talent Awards for superior service to its clients and candidates for the fourth year in a row. ClearlyRated's Best of Staffing® Award is earned by less than two percent of all staffing agencies in the U.S. and Canada.
Sales Talent received a Net Promoter® Score of 90% from its clients, more than 3x higher than the industry's average of 31% in 2022.
Sales Talent received a Net Promoter® Score of 84% from its candidates, more than 4x the industry's average of 19% in 2022.
"We have an incredible team of talented recruiters dedicated to helping our clients hire the best sales professionals possible. Winning this award four years in a row is a huge accomplishment, and I couldn't be more proud of our team," said Chris Carlson, President of Sales Talent, Inc.
"I am pleased to introduce the 2023 Best of Staffing winners alongside their validated service ratings on ClearlyRated.com," said ClearlyRated's CEO Eric Gregg. "These firms have demonstrated a remarkable commitment to delivering amazing experiences, despite another year of upheaval and macroeconomic uncertainty. Hats off to these service leaders — it's truly an honor to recognize and celebrate their achievements."
About Sales Talent
Sales Talent, Inc. is a contingent and retained Go to Market recruiting firm (sales & marketing) for startup SaaS and B2B companies. We are a 4x (2020-2023) ClearlyRated Best of Staffing Award winner.
Sales roles we recruit for: SDR, BDR, AE, Major Accounts, Enterprise AE, Customer Success, Pre Sales, Sales Operations, Sales Manager, Director of Sales, VP of Sales, CRO, and CSO.
Marketing roles we recruit for: Product Marketing, Digital Demand Manager, Solutions Marketing, Social Media Marketing, Content Marketing, Marketing Manager, Brand Marketing, Director of Marketing, VP of Marketing, and CMO.
About ClearlyRated
Rooted in satisfaction research for professional service firms, ClearlyRated utilizes a Net Promoter® Score survey program to help professional service firms measure their service experience, build online reputation, and differentiate on service quality. Learn more at https://www.clearlyrated.com/solutions/.
Contact Information:
Chris Carlson
President
[email protected]
425-739-9979
Original Source:
Sales Talent Wins ClearlyRated's 2023 Best of Staffing Client and Talent Awards With NPS Scores of +90% and +84%