The S.H.I.N.E. Bright Ball-S.H.I.N.E.'s 5th Annual Networking Event: Team S.H.I.N.E. Honored for 2nd Year in a Row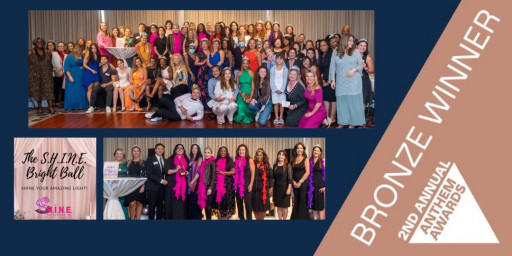 The S.H.I.N.E. Bright Ball
On October 16, 2022, 160 people gathered for the 5th annual S.H.I.N.E. Networking Event to claim their tiara, celebrate and SHINE at the Rusty Pelican Ballroom in Key Biscayne, Fl.
MIAMI, March 1, 2023 (Newswire.com) - S.H.I.N.E. Networking Inc. announced that it has been named a Best Community Event in the Education, Art, & Culture category in the 2nd Annual Anthem Awards.
Anthem Winners are selected by the International Academy of Digital Arts and Sciences. Members include: Nicholas Thompson, CEO, The Atlantic, Christina Swarns, Executive Director, Innocence Project, Zarna Surti, Global Creative Director, Nike Purpose, Maurice Mitchell, National Director, Working Families Party, Lindsay Stein, Chief Purpose Office, Tombras, Jennifer Lotito, President & Chief Operating Officer, (RED), Lisa Sherman, President & CEO, The Ad Council, Emily Barfoot, Global Brand Director Dove, Unilever, Trovon Williams, Senior Vice President of Marketing and Communications, NAACP, Roma McCaig, Senior VP of Impact, Clif Bar, Michelle Egan, Chief Strategy Officer, NRDC, Dinah-Kareen Jean, Senior Manager, Social Innovation, Etsy, Sarah Kate Ellis, President & CEO, GLAAD, Jad Finck, Vice President of Innovation & Sustainability, Allbirds, Christopher Miller, Head of Global Activism Strategy, Ben & Jerry's, Shayla Tait, Director of Philanthropy The Oprah Winfrey Charitable Foundation.
S.H.I.N.E. earned the Bronze for The S.H.I.N.E. Bright Ball: a celebration that shined a light on young leaders, engaged the community and honored community superstars Michele Drucker & Raquel Giorgio. The theme "You I.N.S.P.I.R.E.D." empowered attendees to celebrate after the challenges of the last years. With a community reset in mind, we refocused on strengths/talents to serve each other and create a ripple effect beyond our wildest imaginations.
Meg Nocero adds, "we are so grateful for this recognition."
The Anthem Awards was launched in response to the prevalence social good has taken within the national conversation and cultural zeitgeist in recent years. The 2nd Annual competition received nearly 2,000 entries from 43 countries worldwide. By amplifying the voices that spark global change, the Anthem Awards are defining a new benchmark for impactful work that inspires others to take action.
SHINE ambassadors include Anna Patricios/Carlos Talavera, the Rainbow Connection revue to benefit homeless LGBT teens; Miami Children's Theater; Sawyer Garrity/Andrea Pena, Parkland survivors championing healing through the arts #SHINE MSD; Overtown Optimist Club Seniors 2021 year-long mentoring; and Enzo Fouquet/Gabriela McGrath Moreira, Environmental champions.
S.H.I.N.E. Networking is a 501(c)3 non-profit started in 2015 which hosts networking events and provides educational scholarships to support and benefit young innovative creative leaders in our community who are making a difference locally and beyond. Meg Nocero, S.H.I.N.E.'s founder, was inspired by the Oprah The Life You Want Conference in 2014. S.H.I.N.E. stands for Spirit, Hope, Insight Networking Event.
www.megnocero.com/shine
www.anthemawards.com
Contact Information:
Meg Nocero
Owner, Butterflies & Bliss
[email protected]
7862617261
Original Source:
S.H.I.N.E. Networking Inc. Honored for Best Community Event/Non-Profit in the Education, Art & Culture Category in the 2nd Annual Anthem Awards