SiriusXM Music for Business and Soundtrack Your Brand Named 2023 Top Picks for Best Background Music Platforms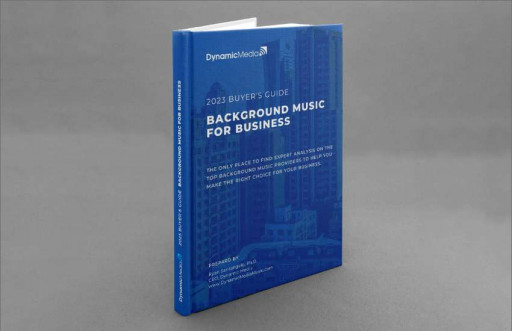 2023 Background Music for Business Buyer's Guide
SiriusXM Music for Business and Soundtrack Your Brand Named 2023 Top Picks for Best Background Music Platforms
DETROIT, March 15, 2023 (Newswire.com) - Dynamic Media, the world's largest reseller of licensed background music for businesses, has released its 2023 Background Music Buyer's Guide. The guide is a comprehensive resource that makes it easy for companies to choose the right background music service for their unique needs.
The 110-page resource is the most complete guide ever written for the background music buyer and is available for free download on the company's website for a limited time.
Dynamic Media Co-founder and CEO Ryan Santangelo, Ph.D., led the six-month research effort with the support of a team of developers, consultants, and industry experts. The Dynamic Media research team drew on 20 years of industry experience working with over 50,000 brands across 45 countries to create the report.
They prepared the 2023 Buyer's Guide using expert interviews, direct customer feedback, analysis of industry data and trends, and comprehensive hands-on testing of every product and feature. The research focused on practical factors businesses should consider when shopping for a background music service. These factors ranged from simple elements like player options to deeper enterprise considerations like AI integration, network security, and central management capabilities.
"Our mission from the outset was to create a simple, easy-to-use resource that managers could access to help guide the background music decision process," Santangelo said.
"We wanted to create a guide that would be useful for both small businesses seeking a turnkey solution and large enterprises and franchise organizations seeking highly customized and scalable options," he said. "We're proud to say that feedback from our users indicates that we have succeeded in this goal."
The 2023 Buyer's Guide used selection criteria to distill the market from over 30 competitors to the top six providers:
SiriusXM Music for Business
Soundtrack Your Brand
Mood Media
Pandora for Business
Cloud Cover Media
Rockbot
These providers stood out for their industry experience, user-friendly platforms, and reputations as tier-one providers, among other factors. The Buyer's Guide offers detailed reviews and comparisons of each provider, including pricing, features, and customer support, to help businesses make informed decisions.
While all six music providers have their strengths, the Buyer's Guide did not identify all of them as recommended options. Only two providers, SiriusXM Music for Business and Soundtrack Your Brand, were awarded the 2023 Top Pick status for their exceptional performance in the SMB and Enterprise categories, respectively. The remaining four providers were not recommended due to limitations in their music platform or their company's service and support capabilities. This information highlights the importance of carefully evaluating each provider's offerings to ensure you choose the right option for your business needs.
2023 Buyer's Guide Top Picks
Small-to-Medium Business Category
SiriusXM Music for Business was named the best small business service, offering a professional and easy-to-use music experience for companies that do not need playlist building or customization. According to the guide, this service is ideal for small to medium businesses seeking a turnkey solution that delivers high-quality streaming music and reliable customer support.
Enterprise and Franchise Category
Soundtrack Your Brand was named the best enterprise business service, offering fully interactive song-by-song playlisting, drag-and-drop Spotify integration, comprehensive AI-generated playlists, central control, and real-time management of the music experience. This service is ideal for any business or franchise organization seeking a highly customized and scalable solution that can adapt to different business needs and use cases.
###
About Dynamic Media
Dynamic Media is a 19-year veteran of the background music industry and the world's largest reseller of licensed background music, in-store audio messaging, playlist curation, and commercial audio systems. The company resells and supports most major services, including SiriusXM Music for Business, Soundtrack Your Brand, Mood Media, PlayNetwork, and others. Dynamic Media manufactures hardware under the DM Commercial Audio brand and provides full-service installation, program management, and on-site technical support to all U.S. zip codes and Canadian provinces. The company is passionate about creating meaningful customer experiences that connect the power of music to the hearts of listeners, inspiring and motivating them. To learn more, visit the Dynamic Media website or call 586-684-7050.
Company Websites and Branded Websites
Dynamic Media Corporate Website: https://DynamicMediaMusic.com
SiriusXM Brand Website: https://SXMBusiness.com
Soundtrack Your Brand: https://DynamicMediaMusic.com/SYB
Contact Information:
Ryan Santangelo, Ph.D.
Co-Founder and CEO
[email protected]
586-684-7050
Original Source:
Dynamic Media Introduces Comprehensive 2023 Background Music Buyer's Guide
The post Dynamic Media Introduces Comprehensive 2023 Background Music Buyer's Guide first appeared on Social Gov.