Embark on Thrilling Ecotourism, Cycling, Running, Hiking, Sunrise Tours, and More Amidst Budapest's Breathtaking Backdrop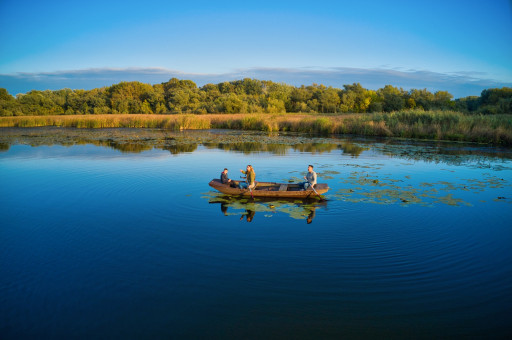 Lake Tisza, Credit: Aktiv Magyarorszag
Lake Tisza is a man-made reservoir located in Hungary, serving as an important freshwater habitat and recreational area.

BUDAPEST, Hungary, June 21, 2023 (Newswire.com)
–
Visit Hungary invites adventure seekers to explore its awe-inspiring natural wonders and remarkable architectural marvels, offering diverse outdoor recreational activities. With meticulously crafted programs tailored to accommodate enthusiasts of all ages, visitors can uncover hidden treasures amidst Budapest's breathtaking backdrop.
"Hungary offers programs that prioritize the safety and happiness of families, blending thrilling experiences with comfort. Whether interested in nature or architecture, we invite you on an extraordinary adventure where discovery and exploration converge, creating treasured memories," said Ivan Ljubinkovic, Regional Head of Business Development at Visit Hungary.
Ecotourism 
Hungary flourished under the Ödön Téry National Tourist House Development Programme. Travelers can enjoy a sustainable journey with affordable accommodation along popular hiking trails. The Hortobágyi National Park, a UNESCO site, and Lake Tisza offer birdwatching, eco-tours, and exploration of natural landscapes. The Sopron Hills and Lake Fertő region provide cycling, nature trails, and water birdwatching.
Via Ferrata
Hungary's via Ferrata routes provide families with safe opportunities to conquer new heights. Beginners can enjoy accessible paths in Felsőtárkány, Demjén, and Tatabánya, offering impressive views and well-maintained tracks. Climbers can scale the Megyer-hegy Tarn in the Zemplén Mountains, experiencing Hungary's natural wonders above a beautiful lake.
SUP Budapest Sunrise Tour
Experience stand-up paddleboarding on the Danube River at sunrise, witnessing iconic landmarks and historic architecture. Glide through Budapest, admire the UNESCO World Heritage site, and let the rhythmic motion guide you along this unique aquatic path.
Cycling
Explore the surroundings of Lake Balaton by sailing or cycling. The BalatonBike365 Port in Keszthely offers 1,000 kilometers of cycle paths, tourist services, and attractions. The Budapest-Balaton Cycle Route, BuBa, offers a two-day ride from Budapest to Balaton, passing through wine regions, historical treasures in Székesfehérvár, and Lake Velence. Additionally, Lake Tisza features a 65-kilometer cycling circuit known as the Cycling Route of the Year in 2021, offering breathtaking vistas and a blend of nature and culture.
Running
Hungary offers exciting running events for all levels and interests. Take on the renowned Kékes Mountain Run, conquering a challenging 671-meter elevation gain through pristine forests. The Budapest 150 Charity Half Marathon supports mental health awareness, with different distances available. Join the Liget Experience Run in City Park Budapest for a unique and whimsical exploration of exclusive areas and awe-inspiring buildings.
Hiking
Indulge in captivating performance hikes, blending physical challenge, relaxation, and camaraderie. The Kinizsi 100 is a 100-kilometer hike from Budapest to Tata, perfect for those seeking endurance and picturesque scenery. Explore the Kékes Klarissza's Way performance hike in Mátra, offering breathtaking autumn vistas and encounters with diverse wildlife at the country's highest point.
For more information, visit www.visithungary.com.
Contact Information:
Mariana Granados
Account Executive
305-532-7950
Original Source:

Hungary's Ultimate Family Travel Experience: Visit Hungary Unveils Unforgettable Outdoor Activities for Adventurous Explorers
The post Hungary's Ultimate Family Travel Experience: Visit Hungary Unveils Unforgettable Outdoor Activities for Adventurous Explorers first appeared on Dayue News.
Travel