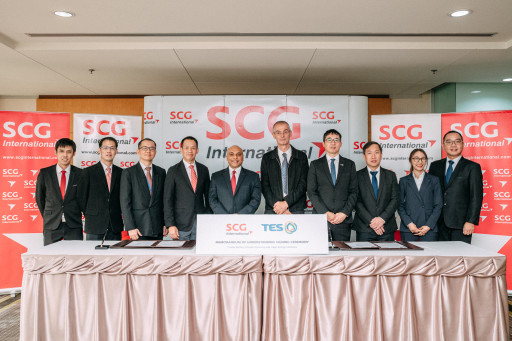 SCG International Corporation Co., Ltd., Cement-Building Materials Business, one of Thailand's largest infrastructure supply and manufacturing companies, will partner with recycling leader Total Energy Solutions Co., Ltd. (TES) to establish circular outcomes for end-of-life batteries.

SINGAPORE, March 5, 2023 (Newswire.com)
–
The Thailand office of global IT asset lifecycle and battery recycling company TES has signed a Memorandum of Understanding (MoU) with Thailand's SCG International Corp. Company Ltd. The MoU will guide the two firms as they collaborate on the recycling and repurposing of end-of-life electric vehicle (EV) batteries and other potential circular economy opportunities.
SCG International, based in Bangkok, is committed to being a Trusted International Supply Chain Partner, driving innovative products and solutions to create a cleaner environment and enhance partners' sustainable growth. It provides a wide array of products and services to the construction, energy, and automotive sectors in Thailand and beyond. In Thailand, SCG distributes EV cars, trucks, buses, vans, and forklifts and has a presence in the photovoltaic (PV) solar energy and energy storage solutions (ESS) markets.
The MoU between SCG International and TES has been designed for the two companies to explore synergies by tapping into TES's capabilities in the battery recycling sector in ways that will adhere to the SCG corporate sustainability strategy. Cooperation can include but is not limited to circular economy aspects of EV battery lifecycle management; synergies between TES and SCG International to seek enhanced value within the battery value chain; pilot program opportunities in the solar energy and ESS spaces that could lead to a more sustainable, climate-resilient environment; and jointly exploring microgrid business opportunities.
"SCG International has put great effort and considerable investment into meeting our sustainability targets," says Mr. Abhijit Datta, Managing Director of SCG International Corporation Co. Ltd. "The proven track record of TES makes them an obvious partner for collaboration in further fulfilling our circular economy, renewable energy, and lifecycle management strategies."
Luc Scholte van Mast, Managing Director of TES Thailand, comments, "It is our honor to have signed this MoU with SCG International. In Thailand, SCG has expanded and diversified its business in a manner that it is poised to be a sustainability and renewable energy leader. We are delighted to play a role in its sustainability, renewable energy, and circular economy journey."
More information about TES at https://www.tes-amm.com.
More information about SCG International https://scginternational.com/about-scg-intl
Contact Information:
Eric Ingebretsen
Chief Commercial Officer
+6564088660
Original Source:

TES and SCG International Collaborate to Create Clean Energy Solutions in Thailand
Business